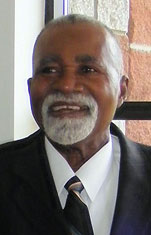 In Memory of the World's Greatest Deacon, Husband of One Wife having ruled well his children and home. Who understood Christian doctrine and obeyed it with a good conscience.
Divinely Appointed Ministrant to the Greater Apostolic House of Prayer.
This man who is only known better by God, came into my life at the tender age of (14) from that day until the day he died never deviated from the integrity. honesty. moral soundness. the godly principles he set for himself.
He was indeed an adherent humanitarian. a philanthropist dare I say altruistic because he practice putting the welfare of others before his own interests.
He had an enormous capacity for joy, an incredible ability to make even the most complicated things seem easy often extending help to society's outcast. changing the most devastated situations for the better.
As a husband he was phenomenal.
As a father he was extraordinary. As a Deacon he was devout. and pietistic as a neighbor he was congenial and consistent.
One day he came along. The man I love, yes he was big and strong the man I love.
And when he came my way I did my best to make him stay. We built a little home just us two from which we never roam. Who would, would you? Thank God for fifty four years with the man I love.
Humbly submitted by your wife